Swati Chandra
Swati Chandra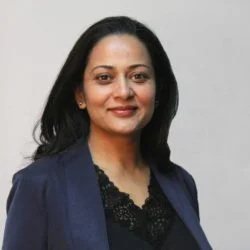 Swati Chandra is the Director of Food Equity Roundtable. She is a seasoned general management, strategy, and marketing professional who comes with over 20 years of cross-sector work experience in private and public sector organizations. She has held senior executive-level positions in high growth and innovative media, technology, and start-up companies including Dow Jones (The Wall Street Journal), Scholastic, ZS Associate, and NZXT Inc.
In the last few years, she has committed herself to public service and making a tangible impact on society. Prior to joining as Director of Food Equity Roundtable, she was working with the Workforce Development, Aging, and Community Services Department (WDACS) at Los Angeles County as a FUSE Executive Advisor. She worked in close collaboration with the WDACS County team on several strategic initiatives to ensure effective service delivery to the target audience. She is also an instrumental part of the team that successfully launched the Great Plates Delivered Nutrition Program for older adults in response to the COVID-19 crisis. She is very passionate about the subject of food equity and its impact on society.
She is a results-oriented professional with a strong focus on data-driven quantitative analysis. She has an MBA in Finance from The Wharton School of Business, the University of Pennsylvania, a Masters in International Marketing, and a B.Sc. in Statistics from the Delhi University.