Amb. Michael Lawson
Amb. Michael Lawson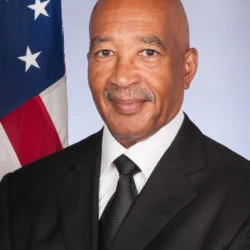 In 2013, President Obama nominated Ambassador Michael Lawson to be the US Representative to the 36-member Council of the International Civil Aviation Organization (ICAO), a UN specialized agency. ICAO was established in 1944 to develop Standards and Recommended Practices and policies in support of a safe, efficient, secure, economically sustainable and environmentally responsible international civil aviation sector.
Ambassador Lawson also served on the Board of Airport Commissioners (BOAC) for Los Angeles World Airports from 2005 through 2011and as President of the BOAC from 2008 – 2011. The Board is responsible for the overall management of the system of airports under its control, including Los Angeles International Airport, LA/Ontario International Airport, and Van Nuys Airport.
Ambassador Lawson also served as a Partner at the prestigious international law firm Skadden, Arps, Slate, Meagher & Flom LLP in their New York and Los Angeles offices until he retired in 2011. Skadden is one of the largest law firms in the world with approximately 1,700 attorneys in 22 offices around the world. The firm specializes in mergers and acquisitions, litigation, and other practice areas. The M&A Journal named Skadden "Law Firm of the Year" in its April 2010 issue. Skadden also received the magazine's top recognition in 2009. Ambassador Lawson led the Executive Compensation and Benefits Group in the Los Angeles office; worked in all facets of executive compensation and benefits matters, including stock options and other equity-based compensation arrangements, tax- qualified and non-qualified pension plans, fiduciary responsibility, structured finance transactions, bankruptcy proceedings, and proxy contests. Chambers USA consistently recognized Ambassador Lawson as one of America's Leading Lawyers for Business. Ambassador Lawson received his Juris Doctorate from Harvard Law School in 1978 and his BA in Political Science and Economics from Loyola Marymount University in 1975. Bar Admissions: New York; District of Columbia; and California
Ambassador Lawson has also held positions of significant responsibility on several charitable, educational and administrative boards, and committees including:
The Board of Trustees of the California State Teachers' Retirement System (the second largest public pension fund in the United States with assets totaling approximately $192.9 Billion (as of 11/30/2016); appointed by the Governor of California from 2011 – 2014);
Chair of the Oversight Board for the Community Redevelopment Agency for the City of Los Angeles, which was responsible for overseeing the dissolution of the Community Redevelopment Activities of the Successor Governing Board of Community Redevelopment Agency for the City of Los Angeles (2012 – 2014);
The Board of Trustees, Morehouse College in Atlanta, GA (2010 – 2014);
The Board of Trustees, Loyola Marymount University in Los Angeles, CA (2009 – 2014); Chair/Member, Constitutional Rights Foundation (2003 – 2010);
Vice Chair/Member, Board of Directors, Performing Arts Center of Los Angeles County/The Music Center (2004 – 2014);
Member, Board of Directors, Music Center Foundation (2010 – 2014);
Member, Western Regional Selection Panel for the White House Fellows Program (2010 – 2011); and Member, Board of Directors, The Advancement Project (2002 – 2014).