Janette Robinson Flint
Janette Robinson Flint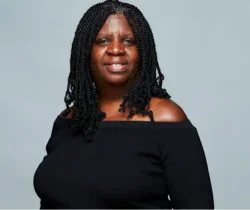 Janette Robinson Flint holds the executive director position of Black Women for Wellness, a woman-centered community-based organization working on reproductive justice issues as they impact Black women & girls. Ms. Robinson Flint is also part of the Los Angeles Coalition for Reproductive Justice, California Coalition for Reproductive Freedom and In Our Own Voice; National Black Women's Reproductive Justice Agenda with the intention of lifting the experiences and voices of Black women in pursuit of health and well-being.
My work in the health field began as an advocate during my pregnancy, seeking a holistic practitioner to work with my concept of gentle birth. and It gives me great pleasure to imagine a world with powerful women, at optimum physical, mental, spiritual, emotional, and financial health leading us to justice and peace.
Over the course of the years, my journey has included The Birthing Project USA, Great Beginnings for Black Babies, National Health Foundation, March of Dimes, California Primary Care Association, Inglewood Healthy Mothers & Babies, South Los Angeles Health Project, and Women Infant & Children (South Los Angeles advisory board) Programs as well with a member of the community faculty with Charles R Drew University of Medicine and Science.
Travel is a love I combine with my work, attending the 4th World Conference on Women in Beijing China inspired the creation of Black Women for Wellness. As a researcher in Cuba, I witness the reality of what political will accomplishes with health for all. Great food, a good story (either book or movie), spoken word, live music, salsa dancing, and a scenic walk make my day in Los Angeles. A victory that encourages health for women and girls grounds me through the challenges, traffic, and the struggle for freedom.