Efrain Escobedo
Efrain Escobedo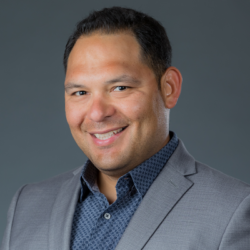 Efrain Escobedo is recognized statewide as a leading executive strategist dedicated to increasing the civic engagement of historically underserved and marginalized communities. For nearly two decades, he has worked within the philanthropic, government, and nonprofit sectors. This cross-sectoral experience –combined with Efrain's commitment to empowering local communities – allows him to bring partners together to make a meaningful impact in his work across California.
Presently Efrain serves as Vice President of Public Policy and Civic Engagement at the California Community Foundation (CCF), one of the state's leading philanthropies with more than $2.6 billion in assets. In this role, Efrain manages senior staff, develops cross-sector partnerships, oversees several multimillion-dollar grantmaking portfolios, and leads the design and implementation of innovative public-private partnerships with Los Angeles County and the State of California.
Before joining CCF, Efrain held leadership positions at the Los Angeles County Registrar-Recorder/County Clerk. There he led three divisions essential to advancing the mission and strategic initiatives of the department, and spearheaded historic projects like the Voting Systems Assessment Project, which modernized the County's voting systems. Efrain also held management positions at NALEO Educational Fund, where he played a key leadership role as the Senior Director of Civic Engagement in the historic Ya Es Hora campaign, which helped to naturalize more than one million immigrants in the U.S. and contributed to historic Latino voter turnout in 2008.
Efrain is Chair of the Board of Directors for Hispanics in Philanthropy, member of the Grantmakers Concerned with Immigrants and Refugees Board of Directors, a member of the Board of Directors for Mi Familia Vota Education Fund, and a member of the Policy Advisory Committee for Southern California Grantmakers. He was also a Speaker Appointee of the CA Census Complete Count Committee in 2020.
Efrain earned his bachelor's degree in American Studies and Ethnicity from the University of Southern California and is a recent graduate of the Los Angeles County Executive Leadership Program. He is currently an advanced candidate for an Executive master's degree in Business Administration at the University of La Verne.